Coreflex
Features
Description
Performance
Projects
Downloads
Features
Key Features
Protection from water Ingress:
All seams are heat welded together to form a strong, monolithic waterproofing membrane.
Incorporating a high molecular weight plasticizer, the PVC membrane properties will remain intact through the life of the product.
Protection from contaminants:
The APC and PVC resist harsh contaminants, including brownfield sites and remedial plaza decks over existing membranes.
COREFLEX can solve both water and gas barrier concerns as a Class "A" Vapor Barrier and Certified Methane Barrier.
Fast and easy:
Can be installed over existing membranes, dramatically reducing exposure of finished space.
No kettles, solvents, fumes or open flames necessary.
Faster dry-in time than traditional systems.
Versatility:
A true dual-membrane waterproofing system in a single application. The PVC layer of COREFLEX also serves as a root barrier, reducing the number of assembly components for green roof applications.
Thermoplastic waterproofing membrane with active polymer core (APC): Setting the standard for waterproofing membrane strength, durability and performance for more then 50 years, COREFLEX consists of a thermoplastic membrane integrally bonded to a proprietary Active Polymer Core (APC) layer. Combined with fully welded seams, this provides the ultimate waterproofing protection. Whether your project requires foundation waterproofing, plaza deck restoration, or green roof construction, COREFLEX provides superior waterproofing performance.
The COREFLEX reinforced thermoplastic membrane is engineered to resist high hydrostatic pressure and groundwater contaminants typical of foundation conditions. In addition to waterproofing performance, the membrane has an extremely low water vapor transmission that qualifies it as a Class "A" Vapor Retarder per ASTM E1745.
Dual membrane protection: If COREFLEX's thermoplastic membrane component is ever punctured or damaged, the superior water barrier performance continues with an APC technology layer that is engineered to actively control water ingress by swelling to produce a reliable seal at the breach. To maximize the performance of the APC Technology, the layer is installed in direct contact with the concrete to be waterproofed, thus preventing water ingress into the structure. With COREFLEX, each membrane overlap seam utilizes both a conventional weld and an overlap assembly of the APC Technology to assure water-tightness. This combination of passive and active barrier technologies provides enhanced seam performance and eliminates the reliance of seam integrity strictly on installation labor.
Applications
COREFLEX 60: A dual component waterproofing membrane system that combines a modified PVC reinforced thermoplastic membrane with an Active Polymer Core (APC) layer into one high performance, easy to use product. This composite membrane provides both a fully welded thermoplastic membrane with an integrally bonded self-sealing active waterproofing layer to assure optimal performance. No other product fits the range of installation conditions that COREFLEX does; including underslab, property line walls, backfilled foundation walls, tunnels, earth covered structures, new and restoration plaza decks, split-slab construction and greenroofs.
COREFLEX XP: A dual-component waterproofing membrane system that combines a modified PVC reinforced thermoplastic membrane with an XP technology core layer in to one high performance, easy to use product. COREFLEX XP offers the same installation and performance benefits as COREFLEX 60, but features XP technology, the latest innovation in active waterproofing. This advanced polymer technology provides exceptional performance in a wide range of ground contaminates, including high-salinity conditions. COREFLEX XP should be used with other XP detailing products: CORETEX XP, SEAL-X XP, and WATERSTOP XP.
Limitations 
COREFLEX is designed for waterproofing applications where the product is properly covered and confined.
COREFLEX should only be installed after substrate preparation has been properly completed and is suitable to receive the waterproofing system.
COREFLEX should be used with structural grade reinforced cast-in-place concrete with conventional forms that produce a smooth surface.
For Shotcrete applications using COREFLEX, reinforced shotcrete walls must be a minimum of 200 mm thick, applied from the bottom up in their full wall structural design thickness in a single application per shotcrete lift.
COREFLEX should not be installed in standing water or over ice.
Site groundwater samples should be submitted to Allco for compatibility testing.
COREFLEX is designed for use under reinforced concrete slabs 150 mm thick or greater with a mud slab substrate.
COREFLEX is capable of bridging typical shrinkage cracks in concrete up to 1.5 mm.
COREFLEX membranes are not designed to waterproof expansion joints. Consult with Allco regarding all expansion joint applications and limitations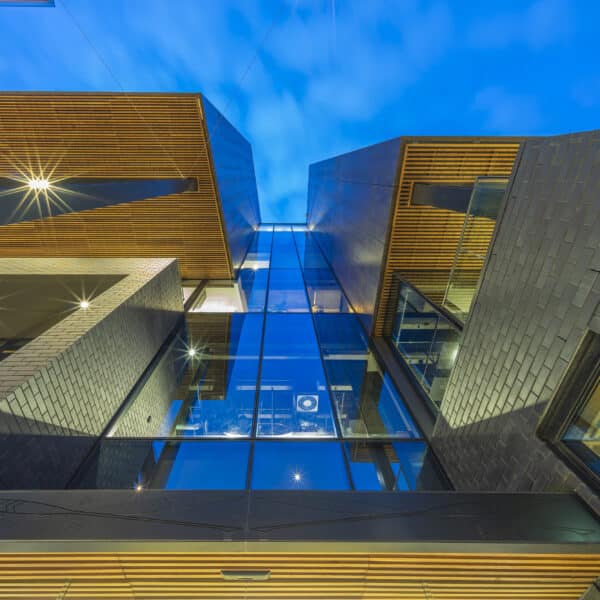 Wynyard Quarter Innovation Precinct – Madden Street
The building is a six-storey office building located on Madden Street in the Wynyard Quarter precinct of Auckland, New Zealand. The total office floor area of approximately 10,000 m2 includes ground floor café and retail.
Read More