PMR: Offering Flexibility & Efficiency
admin
Allco Waterproofing Solutions provided a durable and energy efficient solution for the Auckland ASB North Wharf building, in the form of a Protected Membrane Roof.
Commercial Building owners are increasingly looking to balance building construction costs with long term energy efficient and ecologically friendly design features.
Features such as green roofs and warm roofs, while often specified, are often excluded from final designs during the consent process. This is because architects are specifying traditional roofing membranes that are not designed or suitable for the application they are being used in, and New Zealand has been traditionally slow in taking up new technology and building practises that are common overseas. An example of this is the Protected Membrane Roof (PMR).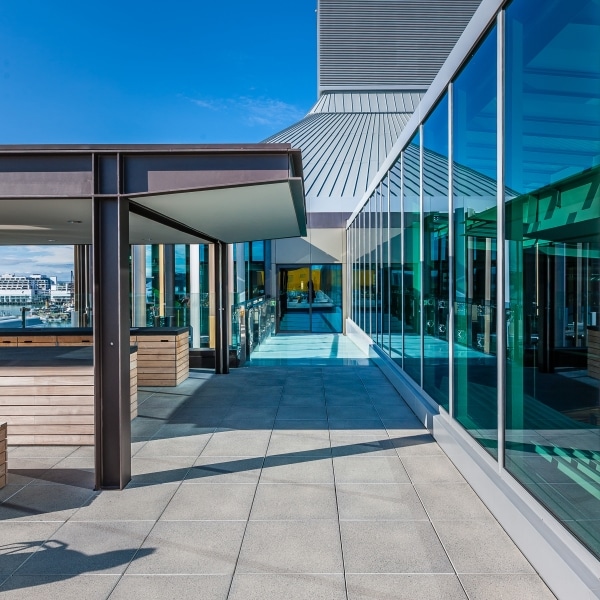 When it comes to low sloped roofs there are two basic systems, the membrane can be exposed or it can be protected. Most roofs in New Zealand are exposed membrane roofs, and while in some applications this is perfectly acceptable (or even a better solution), there are many cases where a PMR roof is a far better solution.
A good example of this is the ASB North Wharf building. Jasmax approached Allco Waterproofing to provide a specification, and it quickly became apparent that the client had very high expectations around energy efficiency and durability. After looking at traditional solutions it quickly became apparent that the best solution for the project was a PMR roof with ILD.
Some of the advantages that a PMR roof has over a traditional membrane roof are:
Long term cost savings
Longer time between tear offs
0 Degree pitch roofs (Hydrotech only)
Efficiency during construction
Greater design flexibility
Protection from trades (eg. HVAC)
Protection form wind uplift and UV
The membrane can also be ILD or flood-tested before insulating and ballasting
Can easily transition between stone ballast, pavers and green roof
Allco Waterproofing has a number of PMR solutions to suit every application including the world renown Hydrotech Monolithic Membrane.